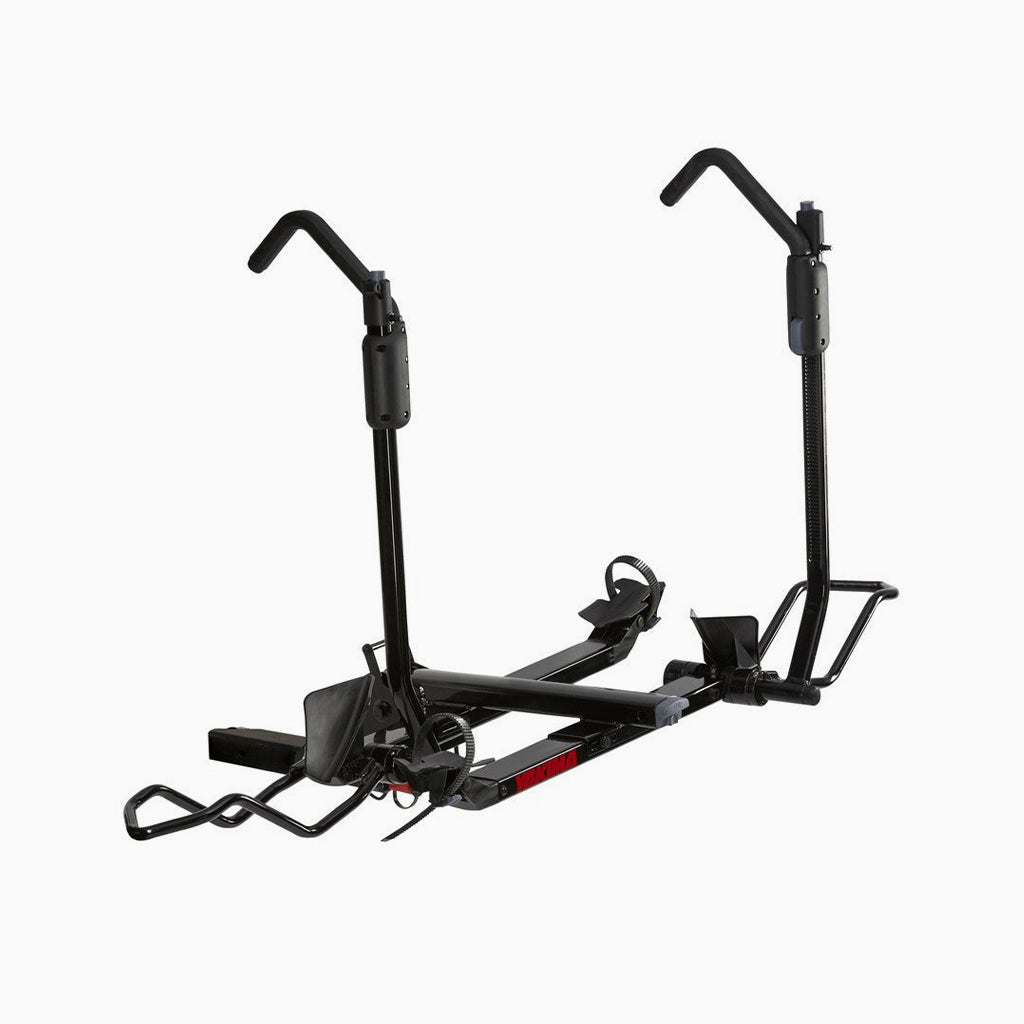 ---
Fast, secure, and easy to use, the HoldUp EVO is built to handle new bike standards, like fat tires and boost hubs, but it easily carries the classics too.The StrongArm hook secures the bikes at their wheels, protecting carbon frames and painted surfaces. Tilt the rack with bikes loaded for quick rear-of-vehicle access using the new easy to reach tilt lever and KickStart™ foot pedal.The super-simple locking SpeedKnob™ makes install a tool-free breeze and included SKS bike locks keep your mind at ease.
Product Details
Hitch mounted tray rack that loads quickly and carries two bikes without frame contact
Easy-access tilt mechanism and KickStart™ foot pedal make raising and lowering the rack a breeze, even with bikes loaded
Tool-free locking SpeedKnob™ makes installation and removal fast, easy and secure
StrongArm hook secures bike at wheels, protecting painted surfaces and carbon frames
Easily adjust trays to reduce bike-to-bike interference
Fits most bikes, including fat-tire, mountain, road, hybrid, women's specific, BMX, kids' bikes, & E-bikes under 50 lbs.
Accommodates disc brakes, through axles, boost hubs, and full suspension bikes
Fits 20" to 29" wheel sizes and tires up to 4.8" wide. Max wheelbase of 48"
Accommodates bike wheelbases up to 48"
Integrated SKS (Same Key System) locks included for added bike security
Available in two sizes: 1.25" hitch receivers & 2" hitch receivers
Carry four bikes – just add the HoldUp EVO +2 (compatible with 2" version only)
Product Specs

Weight: 50.94 lbs.
Dimensions: L 33.00 in x W 42.00 in x H 12.00 in
Limited Lifetime Warranty
Free pickup in store; not eligible for shipping.